What is dubbing?
Posted on
Welcome to another week in my voiceover world where I am busy making narration look easy when there is much more involved behind the scenes. Today I shall discuss Dubbing. Let's get to it.
What is dubbing?
This week a regular client asked me to help them out. They said that they had a bunch of videos all with the main presenter talking in Spanish to camera. The end client is Bosch. They all wondered if I would be able to voice the English version of the Spanish content. In a flash I said yes because I've done it many times before and because I really quite enjoy this type of voiceover work. Dubbing is replacing one audio with another. And in this case it is replacing the Spanish with the English audio.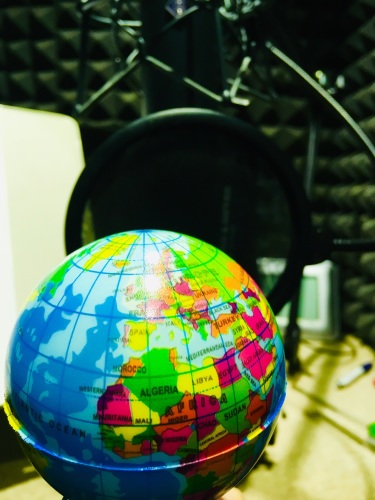 What are the dubbing techniques?
There are many techniques involved in dubbing in the narration world and as a busy female voiceover artist I have built up a few processes that work for me. Firstly time codes. Now usually a client will supply a time code for each section of audio. So for example they supply copy with the seconds each section takes as well as the rolling time in a coloumn next to each content area. Why is this helpful? It helps both the production company and me know exactly where the audio markers are. So from start to finish we can hit and finish each section of narration.
What are the challenges of dubbing?
Sometimes I don't always get the time codes. So I have to do them myself. This requires listening to each section and noting down when they start and finish, the pace of the section and I like to check word counts and syllable counts. I shall get to the differences in languages in a moment. Once I'm happy with all the timings then I will start to record and then edit to match it all up.
Differences in languages
A lot of my voiceover work involves working in different languages. And having lived abroad in Spain, France, Indonesia and worked in places with many languages I have quite the talent for what I call dual or triple talking and listening. By this I mean that while I can talk to you in French, Spanish and English I can simultanously hear a whole range of languages. This comes from working in busy world wide press offices.

This has become a really handy skill for voiceovers. I can listen to a track in one language and know where they are in the copy in both Spanish and English for example. So not only do I have the time codes to rely on, I also have my ears and knowledge of languages. This ensures that when the client asks for me to hit more than just the start and finish audio marks, I am hitting emphasis, breathes and character.
What is the best bit of dubbing?
I love, love, love the challenge. It is second nature for me to be able to listen to multiple languages and answer in a few languages even in one sentance. So to do voiceover work is really fun. And top tip for you all, please note that Spanish will use approx. 30% more words to express the same thing than English. Why is this important to note? Because this means that inevitably depending on which way I work (Spanish to English or English to Spanish) there is not enough time or far too much time.
You may ask why does that matter? It really matters when you want to emulate the length of audio and even mouth shapes in different languages to match them up to their new audio. Clients ask me to make the mouth shapes hit the same place especially if I am dubbing to a person in vision. However the order of words, number of syllables and how a word is actually said in shape is very different from one language to the next.
Dubbing in different languages
Let me take the word "cat" for example. In English it is one syllable where a harsh "K" sound is made almost as an exhalation. Then the T of the word is a tongue stop. In Spanish cat is "gato" so means to make the G and A sound the mouth has to drop open and it is what I describe as a rounded sound, "gahhhh." The shape of my mouth for the K and Gahhh are very different. Note also that Cat is one syllable and Gato is two. Gato also ends in an O which means I purse my lips to achieve it. So visually the shapes our faces make including lips, cheeks, jaw and tongue are now very different. This one word example gets more and more convoluted as we move into sentances and paragraphs of copy.
Dubbing cultural phrases
Another point in dubbing is the cultural phrases used. In Spanish language and content can be populated by words such as "si" and "oops" for interjections. In English we might use "ohhh" and "yeah." Even when we say hi or hello which are indeed translations of "hola" these are different in terms of speed, mouth shape and emphasis placed on the letter in the word. So while I am asked many times to match the languages I make a real effort to ensure that even these parts of the copy that are often not in the copy match up.

What about DAW in dubbing?
I also use a few tricks in my audio software. So for example in Adobe Audition, I rely on multitrack stream to double and triple check that the Spanish track matches the English track or vice versa. This is a quick visual as well as audio way to see how things are matching up. This tip is especially handy for long forms of dubbing.
So there we go, a quick breakdown of voiceover dubbing. Did you know much about this area of voiceover before this blog post? Oh and the client I worked with, the coolest ones around. Bosch!
Keep dubbing!
xx